Quantifying genetic and environmental effects in adaptation to different habitats in the morphologically variable New Zealand mud snail Potamopyrgus antipodarum
Quantifying genetic and environmental effects in adaptation to different habitats in the morphologically variable New Zealand mud snail Potamopyrgus antipodarum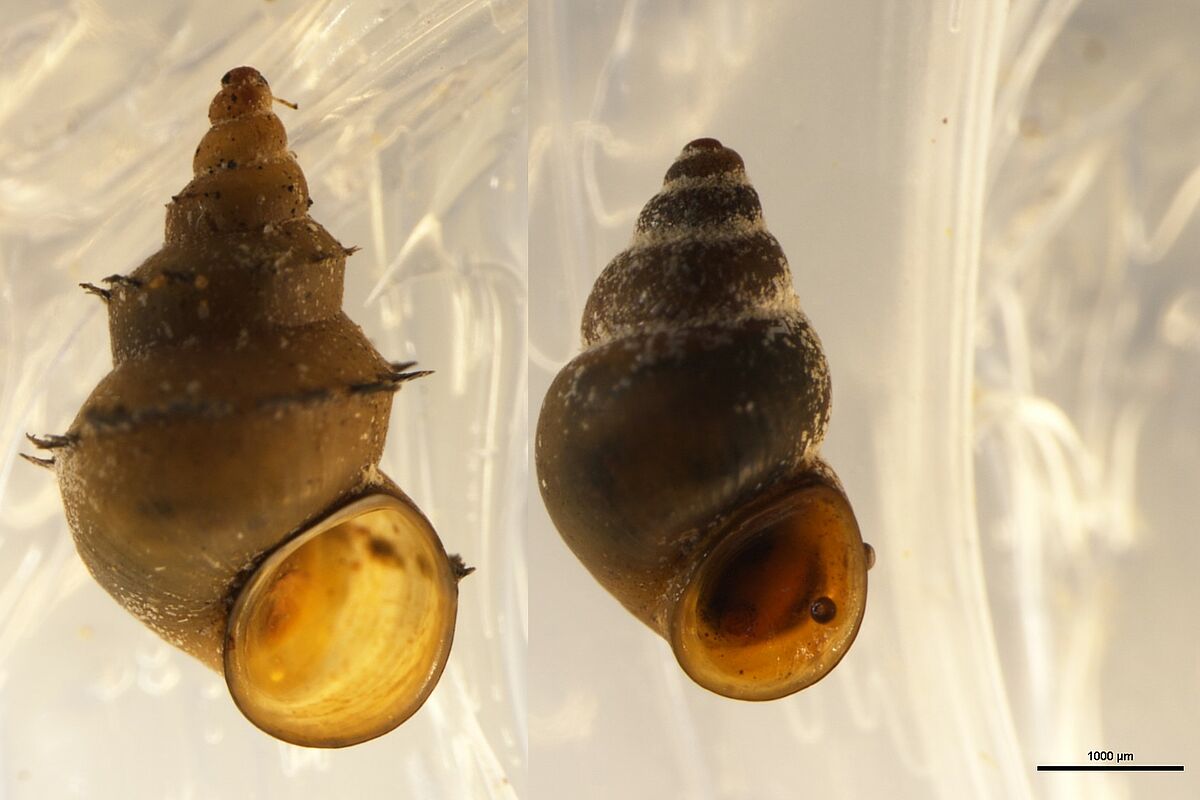 Due to anthropogenic influence, more and more environmental changes are having a great impact on the Earth and on the organisms living on it. Generally, there are three options how organisms can react to environmental changes in their habitat: extinction, migration and adaptation. If they are unable to disperse or to adapt, their risk of extinction is increasing. Others are highly adaptable and easily cope with new and changing environments. Invasive species, for example, are colonizing new habitats with few individuals and are supposed to suffer from reductions in their genetic diversity due to the founder effect. Nevertheless, various invasive species, as the New Zealand mud snail, Potamopyrgus antipodarum, are able to cope well with different environmental conditions and stress and reproduce successfully. Moreover, some of these organisms show traits that are highly variable in different environments. Even within one genotype one can observe different phenotypes under different or changing environmental circumstances (phenotypic plasticity). The shells of P. antipodarum show a high, habitat-depending variability and the shell morphology is adaptive and genetically as well as phenotypically highly plastic. In its native habitat New Zealand, it reproduces diploid-sexually or polyploidy-asexually via parthenogenesis. In invaded regions, such as Australia, Japan, Chile, USA and many European countries, only polyploid, hence asexually reproducing lineages are found.
We aim to disentangle genetic and environmental effects in both common garden and transplant experiments. In common garden experiments, we will estimate heritability of the variability of the shell morphology of P. antipodarum using geometric morphometrics.Using reciprocal transplant experiments, we want toexamine reactions of the snails to changing habitats under most natural conditions possible. Since phenotypic plasticity is apparently very important for P. antipodarum to colonize various types of habitats, we furthermore plan to analyse genome-wide methylation patterns from native and invasive individuals of different habitats using the Nanopore technology in collaboration with Bernhard Misof and Lars Podsiadlowski (Bonn) and relate the methylation patterns to habitat and climate variables as well as shell morphology. In order to identify genes, we will map our data against the genome of P. antipodarum, which is currently being annotated by our project partner Maurine Neiman (Iowa).
Scientists involved: M.Sc. Lisa Männer, Dr. Martin Haase
Winner in a changing world – reconstructing global expansion and invasive routes of the New Zealand mud snail Potamopyrgus antipodarum and the role of shell morphology
Winner in a changing world – reconstructing global expansion and invasive routes of the New Zealand mud snail Potamopyrgus antipodarum and the role of shell morphology
The RESPONSE program aims to understand the biological responses to environmental changes and focuses on the adaptive value of morphological diversity of the ovoviviparous New Zealand (NZ) mud snail Potamopyrgus antipodarum (Gray, 1843) in one of its 12 projects (A1). It is considered to be one of the 100 worst alien species in Europe and is a model organism for research on sexual vs. asexual reproduction, morphological adaptation, phenotypic plasticity, invasiveness and ecotoxicology. In its native range, diploid, outcrossing animals co-occur with mostly triploid parthenogenetic lineages which are almost all-female. The latter have invaded other parts of the world including - apart from Europe - Australia, USA, Japan and Chile. In times of human induced climate change P. antipodarum is an ideal species to study plastic responses to novel environments due to its low genetic diversity in invaded habitats by relating its responses to the changes habitats experience. In the first cohort of RESPONSE, Gerlien Verhaegen investigated the relationships between adult shell morphology and fecundity and their dependence on habitat characteristics in both their native distribution range in NZ as well as among European populations based on data collected in the field (Verhaegen et al. 2018a, b). In addition, she analysed the interaction of flow and shell morphology in an experiment and by computational fluid dynamics (Verhaegen et al. 2019). In the second cohort Lisa Männer studied the reaction norms and heritability of shell morphology in a large common garden experiment (in preparation). Furthermore, she surveyed genome-wide patterns of DNA methylation - a mechanism of phenotypic plasticity - across molluscs based on published transcriptomic and genomic data (Männer et al. 2020) and in P. antipodarum in particular producing data using the Oxford Nanopore long-read sequencing technology (in preparation).
As part of the last RESPONSE cohort my aims for A1 are fourfold: (1) Reconstructing a phylogeography across the native range based on genomic data in conjunction with the question if the range expansion was linked to the variation in shell morphology.(2) Reconstructing the invasive route of P. antipodarum on a global scale extending the work of Donne et al. (2020) using SNP data. Next to already established data, we will sample in previously neglected areas on the north and south islands of NZ and will receive material from recently invaded locations of our collaborators Adrian Dusting (Australia), Gonzalo Andrés Collado Inzulza (Chile) and Gerlien Verhaegen (Japan). (3) Reconstructing the invasive route in Europe based on first records of P. antipodarum (formerly known under the European synonym P. jenkinsi Smith, 1889)in the literature. (4) Predicting future distribution range changes based on the aforementioned projects and according to climate forecasts.
Scientists involved: M.Sc. Peter Schaechinger, PD Dr. Martin Haase