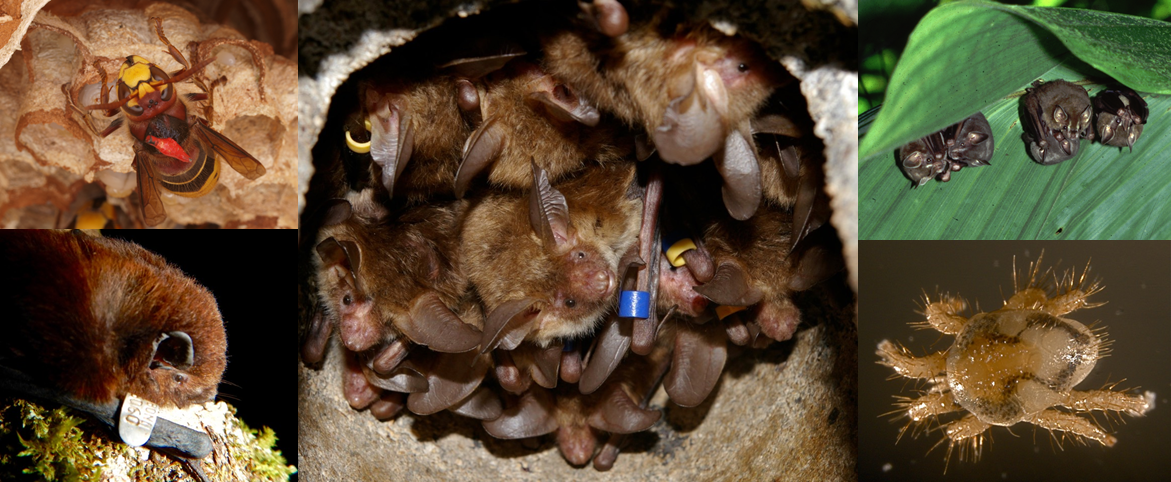 Ongoing Research Projects
Current Research
Our research is multi-disciplinary and addresses questions at the interface of evolutionary, behavioral, and conservation biology. We study social animals and their parasites and pathogens, and work both in the field and the laboratory. In several bat species, we investigate cooperative behavior, dispersal, mating systems, group decision-making in fission-fusion societies, host-parasite/pathogen dynamics, mutualistic inter-specific interactions, as well as basic and applied questions in animal conservation. We use our data to understand processes relevant for the protection of threatened species and suggest directions for habitat management and the monitoring of populations.

Combining genetic data with field observations revealed that Bechstein's bats (Myotis bechsteinii), the species with which we work for more than 20 years, live in complex social groups that are characterized by fission-fusion dynamics and cooperation. Females transfer information about communal roosts, allo-groom each other, and make context-dependant group decision about where to roost next. We found evidence for complex communication, group recognition, and context-related social interactions. In several bat species, living in different tropical and temperate ecosystems, we study how social systems and genetic population structures are influenced by different mating systems, habitat features and dispersal strategies. We found dispersal behavior to differ strongly between species, ranging from strict female philopatry to the dispersal of both sexes, with differences in dispersal patterns being linked to differences in mating systems. We use social network approaches to assess the flexibility of social structures within and between species. Despite intra- and inter-specific variation of bat social structures, the social system of a given species can be conserved over large geographical distances and over populations that live in different environments and have different phylo-geographic histories. Overall our research on bats contributed to the emerging understanding that bat social systems are far more complex than was previously imagined.

During the last 20 years, we established a long-term study on the Bechstein's bat in Central and Eastern Europe. This project, which now includes several international collaborations allows detailed insights into the influence of the social structure and the environment on the genetic composition, ecology, and behavior of bat populations, and the relationships with two ectoparasites (wing mites and bat flies) as well as several viruses. In addition, since more than 10 years, we have collected comparable field and genetic data from brown long-eared bat (Plecotus auritus) colonies and more recently from Natterer's bat colonies where individuals are also marked with PIT-tags. We use these long-term data to study the demography of free-ranging populations and to assess the factors influencing age-related mortality in bats. Our data have important implications for conservation and facilitated the design of protective areas (FFH) in Germany and Bulgaria. The available genetic and field data provide an extensive database on which our future projects can build upon.
Research Collaborations
"Conservation genetics of Chalinolobus tuberculatus, a bat endemic to New Zealand": Dr. C. O'Donnell and Dr. J. Monk Depart. of Conservation, Government of New Zealand.
"Demography and age-related mortality of bats": Dr. A. Scheuerlein, Dr. Jutta Gampe, MPI for Demographic Research, Rostock.
"Ecology and population structure of the Bechstein's bat and its parasites in its glacial refugia": Dr. S. Gazaryan, Eurobats Bonn, I. Natradze, Ilia Chavchavadze State Univ., Tiflis and B. P. Petrov, National Museum of Natural History, Sofia.
"Ecology and species barriers in emerging viral diseases": Prof. Dr. C. Drosten, Institute of Virology, Universität Bonn, Prof. Dr. S. Sommer, PD Dr. Marco Tschapka, Institut of Evolutionary Ecology and Conservation Genomics, University of Ulm, Germany
"Forschung. Umweltbildung. Naturschutz - Mit FUN in die Wildnis!": Ralf Koch, Martin Post, Naturpark Nossentiner Schwinzer Heide, Christoph Treß, Johannes Treß
"Interactions between carnivorous pitcher plants and bats in Borneo": Prof. Dr. U. Grafe, Faculty of Science, University Brunei Darussalam, Dr. C. Clarke, James Cook University Cairns, Australia, Dr. R. Simon, Friedrich-Alexander-University Erlangen-Nuremberg, Prof. Dr. A. Widmer, ETH Zurich, Switzerland.
"Molecular Basis of Aging in Bats": Prof. Dr. E. Teeling, Dublin University, Ireland.
"Range expansion in the lesser horseshoe bat": Prof. Dr. E. Petit, University Rennes, France, Wigbert Schorcht, Martin Biedermann, Nachtaktiv, Erfurt, Germany.
"Social networks in fission-fusion societies": Prof. Dr. F. Schweitzer, Department of Management, Technology, and Economics, ETH Zürich.
"Socio-genetics in the frog-eat bat Trachops cirrhosus": Dr. R. Page, Smithsonian Tropical Research Institute, Panama.
"Viruses in bats": Prof. Dr. M. Groschup, Dr. A. Balkema Buschmann, Institut für neue und neuartige Tierseuchenerreger, Friedrich-Loeffler Institut, Bundesforschungsinstitut für Tiergesundheit.