Meeting of the German Bat Researchers 2022 (TDFF)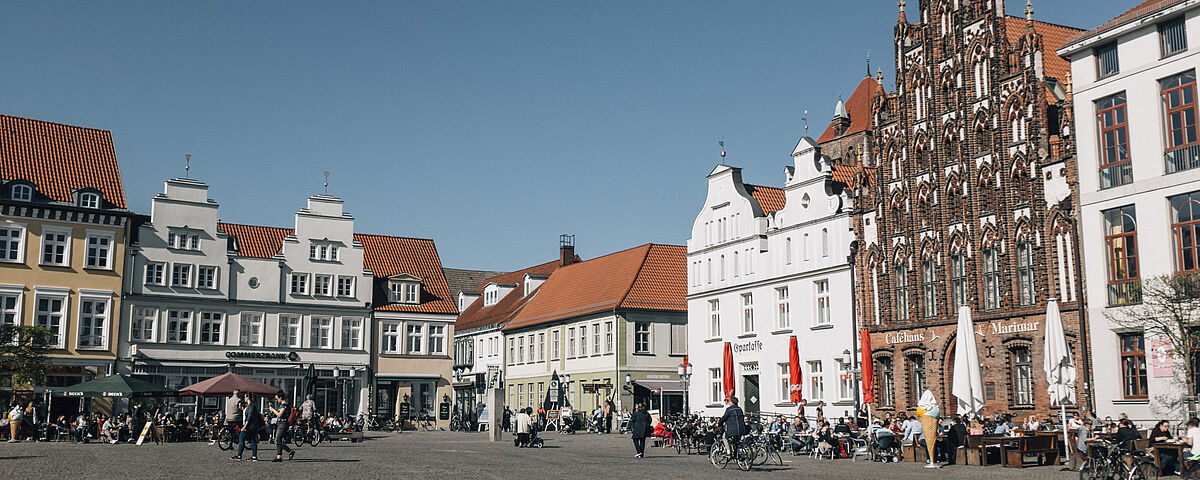 Photo: Till Junker / Uni Greifswald
Welcome to Greifswald
To the Meeting of the German Bat Researchers from 21-23/10/2022
With a slight delay of approximately 10 months, it is our great pleasure to welcome you to Greifswald for the German Bat Research Meeting 2022.
We know that Greifswald is not particularly centrally located within Germany, and we are thrilled that so many of you have registered to make the long trip to be with us this weekend. We hope you enjoy your brief visit to the Baltic coast!
It was on the ferry back from Frauenchiemsee and the TDFF 2020 that news of a potential new respiratory disease outbreak started hitting the European media. Over two years later, we are still dealing with the pandemic, and all the changes it has brought to public perception and our own interactions with bats.
This year, the invasion of Ukraine and its far-reaching consequences have shown us the incredible lengths to which some bat researchers are willing to go. We are humbled and grateful that a delegation from the Ukrainian Bat Rehabilitation Center will be in attendance and share their experiences over the last months with us.
The TDFF has always been a family meeting of sorts. An opportunity for many who have known each other for decades to meet again, and an opportunity for new faces to present themselves and make new connections in a warm and stimulating environment. This year, we are happy to note that there has been a substantial uptick in registrations from bat researchers outside of the classic academic realm. This influx of local expertise and enthusiasm is more than welcome in our family. In this context, we have tried to make as much time as possible for coffee breaks and informal exchange, and look forward to recounting tales and plotting new adventures together.
We hope it will be an incredibly intense and productive 48 hours together!
The TDFF 2022 crew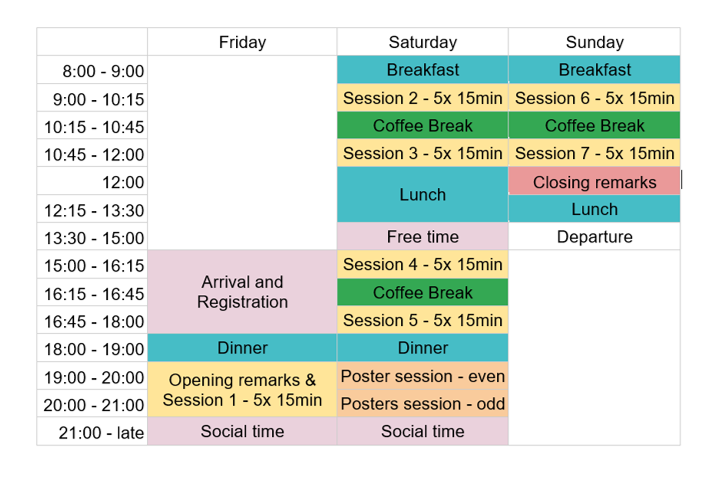 Talks (click to open)
Friday
15:00 Arrival & Registration
18:00 Dinner
19:00 Opening remarks
19:15 Gerald Kerth: Bat research at Uni Greifswald
Session 1* – Chair: TBA
19:45 Edward Hurme: Fruit bat migration matches the green wave in Africa
20:00 Darija Josic: Gene flow in a secondary contact zone of two highly divergent lineages within the Myotis nattererispecies complex
20:15 Vanuhi Hambardzumyan: Biogeographic history and gene flow patterns within the 'Natterer's bats' in the Caucasus
20:30 Lara Keicher: Energy saving strategies in common noctule bats
20:45 Alona Prylutska: Bat rehabilitation in war, challenges for keepers and keeped
21:00 Social time
* Throughout the program only the speaker is listed in this overview. For the full list of contributors for each presentation, please refer to the abstract book
Saturday
8:00 Breakfast
Session 2 – Chair: TBA
09:00 Jannis Gottwald: Advances in open-source conservation technology for the study of bats and other small species
09:15 Karl Kugelschafter: Automatisiertes Aktivitäts- und Bestandsmonitoring von Fledermausquartieren – lohnt der Aufwand?
09:30 Gabi Krivek: Automated bat species identification from camera trap images using deep learning
09:45 Anja Bergmann: Social calls of Myotis bats – variety and function during autumn swarming
10:00 Thejasvi Beleyur: Studying echolocating groups with the Ushichka dataset: methods and insights
10:15 Coffee Break
Session 3 – Chair: TBA
10:45 Ava Kiai: The reverse cocktail party problem: Dynamic time-domain jamming avoidance in freely socializing bats
11:00 Antoniya Hubancheva: A mating call that interferes with bats' sensory systems
11:15 Sophie Holtz: Talking Echoes: The communicative potential of functional echolocation calls in the common big-eared bat, Micronycteris microtis
11:30 Eva Mardus: The micro- and macrodialects of the parti-coloured bat
11:45 Theresa Schabacker: Intraspecific individual differences in vocal behavior
12:00 Lunch
13:30 Free time - Explore Wieck / Eldena / Greifswald
Session 4 – Chair: TBA
15:00 Camila Calderon: Multiyear and cave level variation in foraging behaviour of the Greater spear-nosed bat
15:15 Jenna Kohles: Social foraging behavior and information use linked to prey distribution in an ephemeral insect-eating bat
15:30 Patrick Cvecko: Ulm`s citadel between hibernating bats and increasing human use
15:45 Sebastian Brackhane: Of cattle, bats and insects - Can low intensity grazing and traditional land use promote biodiversity in Central Europe?
16:00 Christian Giese: Winteraktivität von Zwerg- und Mückenfledermäusen
16:15 Coffee Break
Session 5 – Chair: TBA
16:45 Anna-Lena Hendel: Evaluating the effects of retention forestry on bat habitat selection
17:00 Simon Gaultier: Bats respond negatively to proximity of wind turbines in European boreal forests
17:15 Julia Ellerbrok: Activity of forest specialist bats decreases towards wind turbines at forest sites
17:30 Christine Reusch: Wind energy production leads to habitat loss for common noctule bats in Europe
17:45 Carolin Scholz: Bat fatalities at old wind turbines and the loss of trophic interactions
18:00 Dinner
19:00 Poster session of Even numbers
20:00 Poster session of Odd numbers
21:00 Social time
Sunday
8:00 Breakfast
Session 6 – Chair: TBA
09:00 Leonie Baier: Vocalization and navigation behaviour in normal-hearing and hearing-impaired bats
09:15 Marisa Tietge: Sexually selected behaviors and vocalizations in Phyllostomus discolor
09:30 Ravi Umadi: Phyllostomus discolor retain a consistent beam size in seeking targets
09:45 Inga Geipel: You eat what you hear: Hearing sensitivity as an underlying mechanism for niche differentiation in gleaning bats
10:00 Hans-Ulrich Schnitzler: Echolocation strategies of bats for the detection of fluttering insects in clutter
10:15 Coffee Break
Session 7 – Chair: TBA
10:45 Lasse Jakobsen: Stealth echolocation in hawking bats reflects ancestral gleaning traits not counter-measures to moth hearing
11:00 Hans Bilger: Vocal tract and acoustic allometry in neotropical bats
11:15 Stephen Hörpel: The first transgenic bat as a model organism for research on mammalian vocal learning
11:30 Anne Balkema-Buschmann: Determination of physiological body temperature and hematological parameters in captive Rousettus aegyptiacus and Eidolon helvum bats
11:45 Renate Rabenstein: Revealed with modern and classical approaches – Hidden diversity in an Eocene bat fauna (Messel, Germany)
12:00 Closing remarks
12:15 Lunch
13:30 Departure
All talk slots will be 15 minutes in length. Please limit your talk to 10-12 minutes to leave room for questions and transitions. The session chair will provide a warning when 10 / 12 minutes have passed, and will cut off any presentations that go beyond 14 minutes. To minimize technical delays, all presentations will be run from a single laptop. A station will be set up at the registration desk where you will be able to upload your presentation and check for any formatting issues.
Posters (click to open)
Posters (click to open)
1 Cross-modal cues and the cocktail party
Leonie Baier, Logan James, Gregg Cohen, Rachel Page, Paul Clements, Kimberly Hunter, Ryan Taylor & Michael Ryan
2 Active control of receiver morphology of freely flying bats during prey capture Download
Felix T. Häfele, Danuta M. Wisniewska & Lasse Jakobsen
3 The importance of consistency and positive reinforcement in bat training Download
Kaloyana Koseva, Astrid Særmark, Laura Stidsholt & Antoniya Hubancheva
4 Echolocation behavior in the hipposiderid, Hipposideros armiger, and the rhinolophid, Rhinolophus paradoxolophus, while landing
Diana Schoeppler, Hans-Ulrich Schnitzler & Annette Denzinger
5 Stimulus-specific adaptation in the bat's frontal and auditory cortex
Eugenia González Palomares& Julio C. Hechavarria
6 The bat cerebellum and its roles in vocalization and hearing
Shivani Hariharan, Luciana Lόpez Jury & Julio C. Hechavarria
7 Acoustic Context Modulates Natural Sound Discrimination in Auditory Cortex through Frequency-Specific Adaptation
Luciana F. Lopez Jury, Francisco García-Rosales, Eugenia González-Palomares, Manfred Kössl, and Julio C. Hechavarria
8 How the brain detects important sounds: Deviance detection in auditory brainstem responses of bats
Johannes Wetekam, Julio Hechavarria, Luciana Lόpez Jury & Manfred Kössl
9 Automatische Erfassung von Jagdgebieten und Quartiernutzung im Eingriffsbereich mit dem tRackIT-System
Frank Adorf, Jannis Gottwald & Regina Straub
10 Bats and forest structure
Melina T. Dietzer
11 Structurally rich dry grasslands – potential stepping stones for bats in open farmland
Sophie P. Ewert, Mirjam Knörnschild, Kirsten Jung & Karl-Heinz Frommolt
12 BATLAS - An online plattform for the automatic analysis of bat count data to estimate population trends Download
Marcus Fritze, Stefan Mayr, Jens Berg, Peter Busse, Jörg Harder, Uwe Hoffmeister, Jörn Horn, Martin Koch, Gerhard Maetz, Sarah Malaske, Frank Meisel, Angelika Meschede, Ruth Petermann, Wolfgang Rackow, Marco Roßner, Klaus Thiele, Siegfried Wielert, Gerald Kerth, Alexander Scheuerlein
13 Importance of water bodies for bat conservation in a human-transformed landscape
Pratigya Gyawali, Alexander Scheuerlein, Erik Sperfeld & Marcus Fritze
14 Einfluss von Landnutzungsveränderungen und einer Autobahn auf die Jagdhabitatnutzung von zwei Wochenstubenkolonien der Bechsteinfledermaus (Myotis bechsteinii) in Ostwestfalen (2011-2020)
Simone Huth, Jörg Bettendorf, Michael Veith & Jochen Lüttmann
15 Ecological application of acoustic bat monitoring at wind turbines
Frank Adorf, Thomas Grunwald, Kathrin Jäckel, Carsten Braun, Liam Bailey, Kseniia Kravchenko
16 Roost variety in a population of Myotis daubentonii in a mid-mountain region in North Rhine-Westphalia, Germany
Frauke Krüger & Stefan Jacob
17 Decreasing light pollution is key in order to increase the value of urban areas for bat conservation Download
Daniel Lewanzik, Tanja M. Straka, Julia Lorenz, Lara Marggraf, Silke Voigt-Heucke, Anke Schumann, Miriam Brandt & Christian C. Voigt
18 Large-scale long-term passive-acoustic monitoring reveals spatio-temporal activity patterns of boreal bats Download
Miika Kotila, Kati Suominen, Aleksi Lehikoinen, Anna Blomberg, Ville Vasko, Eero J. Vesterinen, Thomas M. Lilley
19 The use of Ulm`s citadel (Wilhelmsburg) as a hibernaculum for bats
Robin Weeber, Marco Tschapka & Patrick Cvecko
20 The echoic world of wild bats
Laura Stidsholt, Stefan Greif, Holger Goerlitz, Kristian Beedholm, Jamie Macaulay, Mark Johnson & Peter Teglberg Madsen
21 Ergebnisse aus 10 Jahren Fledermausprojekt des NABU-Regionalverbands Brandenburg-Havel Download
Beatrix Wuntke
22 Vertical stratification of edge and open space bats in a neotropical bat assemblage
Julian Hinz, Danielle M. Adams & Annette Denzinger
23 Vertical stratification of insectivorous bats in 100 meter altitude in agricultural areas of central Thailand
Supawan Srilopan & Sara Bumrungsri
24 Seasonal and individual variation in diet and habitat use of common noctule bats (Nyctalus noctula) foraging above farmland
Marit Kelling, Aileen Grünwald, Carolin Scholz, Jan Pufelski, Manuel Roeleke, Torsten Blohm, Ran Nathan, Sivan Toledo & Christian C. Voigt
25 Habitat use and spatial movements of Leisler's bats (Nyctalus leisleri)
Michelle Korn, Carolin Scholz, Uwe Hoffmeister, Christine Reusch & Christian C. Voigt
26 Common noctule bats form mobile sensory networks to optimize prey localization Download
Manuel Roeleke, Ulrike E. Schlägel, Cara Gallagher, Jan Pufelski, Torsten Blohm, Ran Nathan, Sivan Toledo, Florian Jeltsch & Christian C. Voigt
27 How to get around? Cross-generational information transfer in maternity colonies of greater mouse-eared bats
Simon P. Ripperger, Lutz Ittermann, Jörg Harder, Frieder Mayer & Ahana A. Fernandez
28 Testing the long-term memory in common noctule bat (Nyctalus noctula) Download
Alona Shulenko, Maryna Yerofeieva, Anzhela But & Anton Vlaschenko
29 Bats and Concerts - How light immissions can influence the migration of bats to their hibernation site
Florian Gloza-Rausch
30 Genomic investigation of introgressive hybridization in two cryptic bat species
Marie Gurke, Mozes P.K. Blom, Emrah Çoraman, Frieder Mayer
31 Population genetic structure of barbastelle bats (Barbastella barbastellus) in Germany
Moritz Krämer, Gerald Kerth & Jaap van Schaik
32 Serotine's secrets - No sexual penetration involved in the mating of Eptesicus serotinus, a new copulatory pattern in mammals.
Nicolas J. Fasel, Jan Jeucken, Kseniia Kravchenko, Marcus Fritze, Ireneusz Ruczyński, Ewa Komar, Alona Shulenko, Marharyta Moiseienko, Anton Vlaschenko & Susanne Holtze
33 The spatialMaxent UI: Accounting for spatial autocorrelation during model parameterization leads to less complex Maxent models and a better predictive performance on spatially independent data
Lisa Bald & Jannis Gottwald
34 Identification of bat fossil petrosals from Zoolithenhöhle (Burggailenreuth, Franconia, Germany) via micro-CT 3D modelling Download
Nicola Eccel, Julia A. Schultz & Thomas Martin
35 How social are roosting groups of C. perspicillata? A pilot study on allogrooming and related behaviours
Michelle Müller, Michelle Menge & Sabine Schmidt
36 Do female Bechstein's bats give a shit? The role of conspecific faeces odour in roost selection in Myotis bechsteinii
Sofia Rizzi, Franziska Schäfer & Gerald Kerth
37 The large colonial bat, Chaerephon plicatus, can alter their own cave temperatures
Nittaya Ruadreo & Sara Bumrungsri
38 Experimentally increased roost temperatures lead to larger body sizes in Bechstein's bats (Myotis bechsteinii)
Janis Wolf, Carolin Mundinger, Alexander Scheuerlein & Gerald Kerth
Die Poster sollten im Hochformat und nicht größer als A0 sein. Die Poster werden direkt bei der Registrierung aufgestellt und sind während der gesamten Konferenz zu sehen. Am Samstag nach dem Abendessen findet eine zweistündige Postersession (mit Erfrischungen) statt, in der Sie Ihre Arbeit strukturierter präsentieren können. Bitte beachten Sie die Nummer vor Ihrem Poster im Programmheft und seien Sie in der ersten Stunde (gerade Nummern) oder in der zweiten Stunde (ungerade Nummern) bei Ihrem Poster anwesend.
---
Conference venue
The Maritimes Jugenddorf Wieck (Majuwi), is idyllically located directly along the river Ryck in the Baltic harbor town of Wieck (Greifswald). The conference venue will be open for registration from 15:00 on Friday, with the official program starting at 18:00 with dinner, and 19:00 with the opening remarks. All meals will be served in the central dining room. For the omnivores, please help us ensure that the vegetarian and vegan options are not depleted before all people have had a chance to serve themselves. The talks and posters will be presented in the separate auditorium. The conference will end at 14:00 on Sunday.
Travel
Train/Bus: Greifswald can be easily reached by train (2,5 hrs by ICE from Berlin) and Flixbus. Directly in front of the train station is the ZOB (Bus terminal), from there, Bus 2 provides regular service to Wieck, Brücke (Leaves at :02 / :17 / :32 / :47; complete plan: https://www.sw-greifswald.de/siteflow/scripts/core/file.php?id=3597).
Car: The address of the venue is Yachtweg 3, 17493 Greifswald. Parking is available behind the venue (see map).
Contact
If you have any questions or comments for us, please feel free to contact us via: tdff2022uni-greifswaldde
We look forward to welcoming you in October!
- the organizing committee